«We shape our buildings, and afterwards our buildings shape us»
«On the night of May 10, 1941, with one of the last bombs of the last serious raid, our House of Commons was destroyed by the violence of the enemy, and we have now to consider whether we should build it up again, and how, and when.
«We shape our buildings, and afterwards our buildings shape us. Having dwelt and served for more than forty years in the late Chamber, and having derived very great pleasure and advantage therefrom, I, naturally, should like to see it restored in all essentials to its old form, convenience and dignity.»
—House of Commons (meeting in the House of Lords), 28 October 1943. The old House was rebuilt in 1950 in its old form, remaining insufficient to seat all its members. Churchill was against «giving each member a desk to sit at and a lid to bang» because, he explained, the House would be mostly empty most of the time; whereas, at critical votes and moments, it would fill beyond capacity, with members spilling out into the aisles, in his view a suitable «sense of crowd and urgency.»
Fuente de la cita: The Churchill Centre  
---
"Formamos Nuestros Edificios, y luego ellos nos modelan"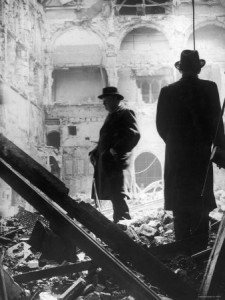 'En la noche del 10 de mayo de 1941, con una de las últimas bombas del último grave ataque aéreo, fue destruida nuestra Cámara de los Comunes por la violencia del enemigo, y ahora tenemos que considerar si la deberíamos reconstruir, cómo, y cuándo.
'Damos forma a nuestros edificios, y luego ellos nos modelan. Habiendo vivido y estado al servicio de la Cámara durante más de cuarenta años, y habiendo disfrutado del placer y provecho de la misma, naturalmente me gustaría verla restaurada y fundamentalmente y convenientemente restituida en su forma original y dignidad.'
— Cámara de los Comunes (reunión en la Cámara de los Lores), el 28 de octubre de 1943. La vieja Casa fue reconstruida en 1950 en su forma original, resultando insuficiente para dar escaño a todos sus miembros. Churchill era contrario a dar a cada miembro un puesto o escaño para "golpear" porque según explicaba, la Cámara estaría vacía la mayor parte del tiempo, mientras que en momentos críticos y de votaciones se llenaría de miembros más allá de su capacidad, desbordando las naves laterales y pasillos, según su opinión, provocando un «sentido de aglomeración y urgencia».'
(trad. C. Caparrós)